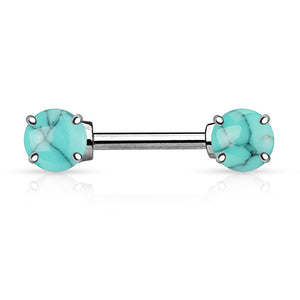 Turquoise is a beautiful blue-green stone that aligns with all the chakras. Turquoise represents wisdom, tranquility, protection, good fortune, and hope. This stone has the ability to stabilize mood, and instill calmness. It is excellent for depression and exhaustion, it also has the power to prevent panic attacks. Turquoise promotes self-realisation and assists creative problem solving. 
*Each nipple ring is crafted with authentic turquoise, no two pieces will be identical!
Each order comes with 1 pair.
Material: Implant Grade 316L Surgical Steel, Turquoise 
Size: 14g, 1/2"